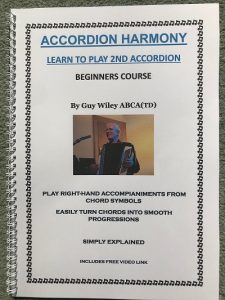 ACCORDION HARMONY BEGINNERS COURSE
£13.00  (Free delivery)
Guy sets out a harmony course that will be easily understood by beginners and more experienced players alike.
This book provides all the necessary information needed to play harmony accordion (or second accordion) to accompany other musicians or fill out chord textures to complement your own melody playing.
This course takes you step by step through the basics needed to learn efficient treble and bass chord playing, with exercises specifically set out for each stage of development.
Students should already be familiar with the accordion and have a basic ability to read music.
On completion of the course you will have the toolbox required to accompany musicians in many genres, including traditional, jazz, swing, ceilidh and other dance styles.
Below are two video tutorials to get you started on the Accordion Harmony course. These should be watched after reading through the first two sections of the book.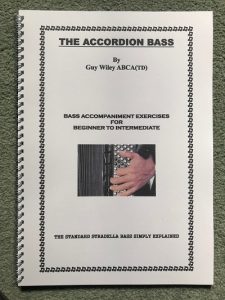 THE ACCORDION BASS
£13.00  (Free delivery)
In  THE ACCORDION BASS, Guy uses his experience as an accordion player and teacher to explain the layout and use of the standard Stradella bass used by most accordionists today. No previous knowledge or experience is assumed on the part of the reader.
Starting with a basic introduction the student is taken through the process of learning the bass buttons in a logical sequence with clear explanations and exercises to develop familiarity and expertise. Attention is focused on the use of correct fingering and hand position, essential for the development of consistent accuracy.
The book deals mainly with bass accompaniment playing, enabling beginners and intermediate players to quickly get to grips with playing bass keyboard harmony to complement the melody on the treble keyboard.
If you have any queries regarding these books please use this contact form to get in touch